This species grows and flowers readily in cultivation and is one of the more unique of the cymbidium species with its broad leaves. Its scape is between 7 and 35 cm long with between 2 and 8 flowers. The flowers are between 2.5 and 5 cm.
Culture
We grow this plant under a sold roofed house with open sides. It flowers twice a year between December and March.
Habitat
In deep shade in broad-leafed forest, usually in rich soil and deep humus and leaf litter, often in conjunction with tree roots or rotting wood.
Distribution
N India (Himalaya, Meghalaya, Sikkim), Nepal, Bhutan, China, Hong Kong, Taiwan, Ryukyu Islands, Japan, Burma, Indo-China, W Malaysia, Java, Sumatra, Borneo, Moluccas, New Guinea 300 - 2300m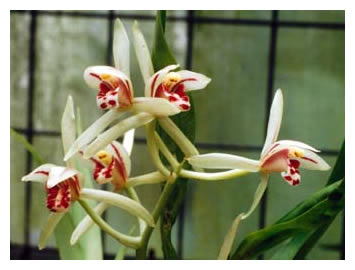 Synonyms and other names
C. cuspidatum, C. javanicum, C. gibsonii, C. papuanum, C. caulescens, C. kerri, C. nagifolium, C. aspidistrifolium, C. syunitanum, C. javanicum var. pantlingii, C. maclehoseae, C. lancifolium var. aspidistrifolium, C. lancifolium var. syunitianum, C. robustum, C. bambusifolium
Primary Hybrids
lancifolium x cyperfolium = Jade Rabbit
lancifolium x ensifolium = Patrice Fox
lancifolium x goeringii = Hybrid A
madidum x lancifolium = Elsie Blackmore
sinense x lancifolium = Jade Hare