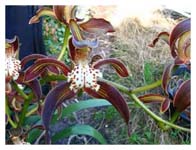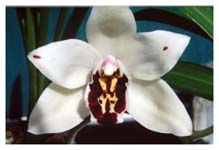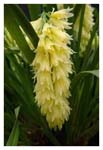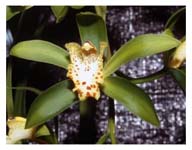 Cymbidium Species
Stephen Early







Cymbidium iridioides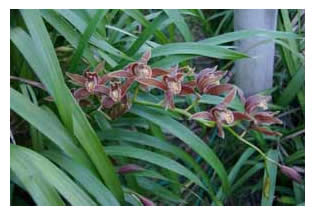 Best known as giganteum this is another of the large flowered species. Although some do not consider it as showy as some of the others a specimen plant with several racemes is always admired. The scape is 45 - 85 cm long carrying between 7 and 20 scented flowers up to 10 cm across. The colour varies from red to ginger brown.
Culture
We grow and flower this species under shade cloth in Melbourne. It flowers in May for us.
Habitat
On trees in dense forest, especially in hollows containing decomposing vegetable matter.
Distribution
Nepal, N. India (Kumaon, Assam, Sikkim, Meghalaya), Bhutan, Burma & S W China (Yunnan, Sichuan, Xizang). 1200 - 2200m.
Synonyms and other names
C. giganteum, Cyperorchis gigantea, Iridorchis gigantea
Primary Hybrids
iridoides x grandiflorum (hookerianum) = Zaleskianum
iridioides x hookerianum = wilsonii pro sp
iridioides x lowianum = Iris
iridioides x lowianum = schroderi pro sp
iridioides x mastersii = Winnianum
iridioides x tracyanum = Bennett-Poei
iridioides x tracyanum = Schoenbrunnensis
iridioides x tracyanum =Tracyano-Gigabteum
eburneum x iridioides = Eburneo-Giganteum
elegans x iridioides = Maggie Flower
erythreaum x iridioides = Toni Benton
erythrostylum x iridioides = Florinda
erythrostylum x iridioides = florinda
floribundum x iridioides = Enchanting
goeringii x iridioides = Zuifei
iridioides x grandiflorum (hookerianum) = zaleskianum pro hyb nat
insigne x iridoides = Iona
mastersii x iridioides = Holmesii
sanderae x iridioides = Iridae
Copyright 2017