Cymbidium hookerianum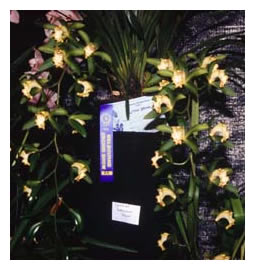 This cymbidium is one of the favourites with its green and very glossy flowers. Its scape is up tp 70 cm long bearing 6 - 17 flowers with a strong fresh scent. The flowers are up to 14 cm wide.
Culture
We grow and flower this species under shadecoth in Melbourne. It flowers in August for us.
Habitat
On trees or steep banks in dense, damp forest.
Distribution
E Nepal, Sikkim, Bhutan, Assam, S W China 1500 -2600m
Synonyms
C. grandiflorium, C. giganteum var. hookerianum, C. grandiflorum var. punctatum, Cyperorchis grandiflora, C. hookerianum var. hookerianum
Primary Hybrids
grandiflorum (hookerianum) x devonianum = Grand Devon
hookerianum x ensifolium = Pink Butterfly
hookerianum x erythraeum = Veronica Clowes
grandiflorum (hookerianum) x insigne = Coningsbyanum
hookerianum x lowianum = Sedeni
grandiflorum (hookerianum) x mastersii = Maronii
grandiflorum (hookerianum) x tracyanum = Rosefieldense
eburneum x grandiflorum (hookerianum) = Holfordianum
giganteum (irioides) x grandiflorum (hookerianum) = Zaleskianum
giganteum (irioides) x grandiflorum (hookerianum) = zaleskianum pro hyb nat
erythrostylum x hookerianum = Hooked on Classics
iridioides x hookerianum = wilsonii pro sp
lowianium x grandiflorum (hookerianum) = Lowio-grandiflorum
parishii (sanderae) x grandiflorium (hookerianum) = Herbie Poole
pumilum (floribundum) x grandiflorium (hookerianum) = God Only Knows
sinense x hookerianum = Fu Manchu