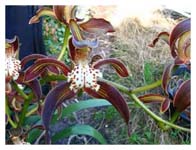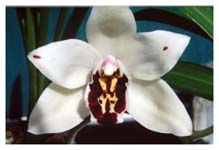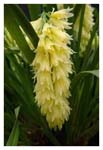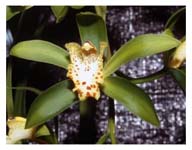 Cymbidium Species
Stephen Early







Cymbidium finlaysonianum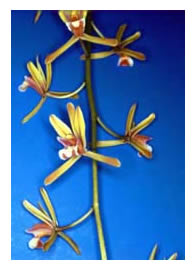 This is another thick leaved species whose racemes grow as the flowers open. The scape is between 20 and 140 cm long with between 7 and 26 flowers. The flowers are weakly fruit scented and 4 - 5.7 cm across.
Culture
We find that this grows and flowers well in out heated house which has a minimum of 12 C. It flowers between January and March in Melbourne.
Habitat
On trees in open lowland forest or secondary forest, usually near the coast, or on exposed coastal rocks, sometimes colonizing rubber palm and other lowland tree crops.
Distribution
S Vietnam, Cambodia, S Thailand, W Malaysia, Sumatra, Java, Borneo, Sabah, the Philippines and Sulwaesi 0 - 300 m.
Synonyms and other names
C. pendulum sensu, C. wallichii, C. pendulum var. brevilabre, C. tricolor, C. alifolium sensu
Primary Hybrids
finlaysonianum x canaliculatum = Iris Bannochie
finlayssonianum x dayanum = Tavoy
finlaysonianum x ensifolium = Faridah Hashim
finlaysonianum x floribundum = Suzuka Fall
finlaysonianum x lowianum = Bill Bailey
finlaysonianum x suave = Silicon Chip
aloifolium x finlaysoniamum = Hanalei
madidum x finlaysonianum = Francis Hunte
Copyright 2017