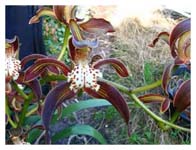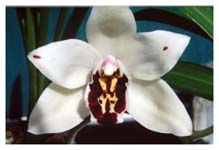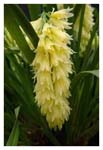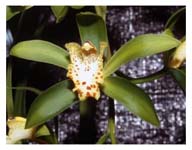 Cymbidium Species
Stephen Early







Cymbidium elegans
This is a beautiful species with a raceme crowded with many yellow bell shaped flowers that do not open fully. It is a most attractive species and is not uncommon in cultivation. Its scape is 30 - 60 cm with between 20 - 35 flowers. The flowers are bell shaped, lightly scented, 3 cm across and cream to pale yellow.
Culture
We grow and flower this species under shadecloth in Melbourne. It flowers in May for us.
Habitat
On trees and rocks in damp, shady forest, sometimes on shaded rocks overhanging streams.
Distribution
Nepal, N E India (Sikkim, Dargeeling, Assam, Meghalaya, Naga Hills, Lushai Hills), Bhutan, N Burma (inc Chin Hills), S W China (Yunnan, Xizang). 1500 - 2500m
Synonyms and other names
C. longifolium, Cyperorchis elegans, C. densiflorum, Grammatophyllum elegans, C. elegans var. obcordatum, C. elegans var. lutescens, Arethusantha bletioides, Cyperorcis elegans var. blumei
Primary Hybrids
elegans x dayanum = Elsimon
elegans x devonianum = Cariad
elegans x erythrostylum = Early Style
elegans x erythraeum = Gammieanum
elegans x erythraeum = gammieanum
elegans x giganteum (irioides) = Maggie Flower
elegans x iridiodes = Maggie Flower
pumilum (floribundum) x elegans = Ides of March
tracyanum x elegans = Foster Alcock

Copyright 2017