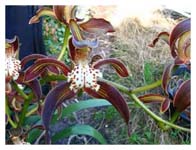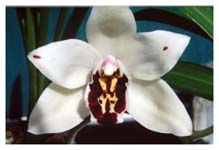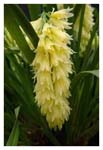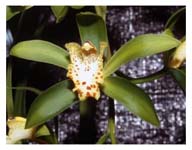 Cymbidium Species
Stephen Early







Cymbidium devonianum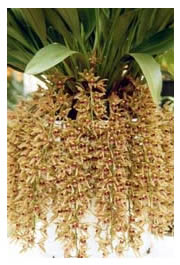 This species has been used widely in hybridising and can be found in the background of many late flowering miniature and intermediate cymbidiums. It is some what variable in colour and the strength of the lip markings. The pendulous racemes and free flowering nature makes this an ideal plant when grown into a specimen. The flower scape is 15 - 44 cm long with between 15 and 35 closely spaced flowers.
Culture
We grow and flower this species under shadecloth in Melbourne. It flowers in October - November for us.
Habitat
On mossy rocks and moss covered trees where humus and leaf litter has accumulated, in broken shade.
Distribution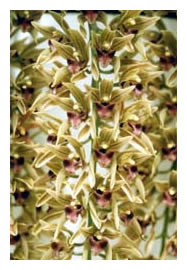 Nepal, N E India, (Sikkim, Meghalaya), Bhutan, N Thialand, China and possibly Laos and Vietnam, 1500 - 2200m
Synonyms
C. sikkimense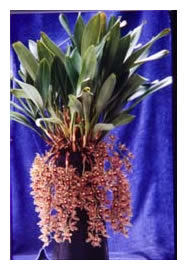 Primary Hybrids
devonianum x canaliculatum = Pied Piper
devonianum x eburneum = Jean Brummitt
devonianum x ensifolium = Devondale
devonianum x erythrostylum = Devon Odyssey
devonianum x insigne = Vogelsang
devonianum x lowianum = Langleyense
devonianum x lowianum = Langlleyenne
devonianum x lowianum = Veitchii(1911)
devonianum x madidum = Cricket
devonianum x pumilum (floribundum) = Miss Muffet
elegans x devonianum = Cariad
erythreaum x devonianum = Teeny Weeny
grandiflorum (hookerianum) x devonianum = Grand Devon
iansonii(lowianum) x devonianum = Aldaniti
mastersii x devonianum = Little Master
nanulum x devonianum = Mark's Pride
parishii (sanderae) x devonianum = Devon Parish
sinense x devonianum = Minnehaha
suave x devonianum = Sweet Devon
suavissimum x devonium = Miss Tuffet
tigrinum x devonianum = Tiny Tiger
tracyanum x devonianum = Devon Spectrum
(Photographs by S W Early & OSCOV)
Copyright 2017