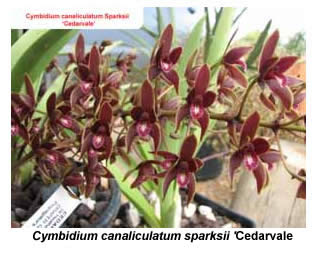 This is quite variable in colour with one of the most popular var. sparksii. This is a very dark plant with almost horizontal racemes. This plant has thick leaves. It is often found in exposed sites. Its scape is 15-55cm long with between 13 and 60 closely spaced 1.8 - 4 cm flowers. Colour varies from green to almost black.
Culture
We have grown and flowered this species in Melbourne in a heated glasshouse (12 C min). It flowered between September and November. It needs a dry period over winter and is believed to grow best with a high pH.
Habitat
Epiphyte on Eucalyptus and Melaleuca trees growing in rotten wood in hollow trees and in hollows formed by fallen branches, often in very dry areas, usually in partial shade.


Distribution
Australia from northern Western Australia to Cape York, Queensland, and south to central New South Wales. 0 - 1000m.
Synonyms
C. hillii, C. sparkesii, C. canaliculatum var. sparkesii, C. canaliculatum var. canaliculatum, C. canaliculatum var. marginatum, C. canaliculatum var. barrettii
Primary Hybrids
canaliculatum x aliofolium = Penguin
canaliculatum x aliofolium = Alcor
canaliculatum x atropurpureum = Australian Midnight
canaliculatum x dayanum = Bungy Jumper
canalicylatum x lowianum = Canalow
canaliculatum x maddidum = Little Black Sambo
canaliculatum x maddidum = laei
aloifolium x canaliculatum = Kintoki
devonianum x canaliculatum = Pied Piper
ensifolium x canaliculatum = Ensi Canal
finlaysonianum x canaliculatum = Iris Bannochie
parishii (sanderae) x canaliculatum = Canal Parish
pendulum x canaliculatum = Penguin
pumilum (floribundum) x canaliculatum = Brown Beauty
simulans(alifolium) x canaliculatum = Alcor
suave x canaliculatum = James Webeck
suave x canaliculatum = hilli
suavissimum x canaliculatum = Sweet Can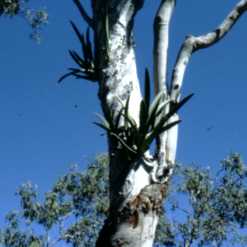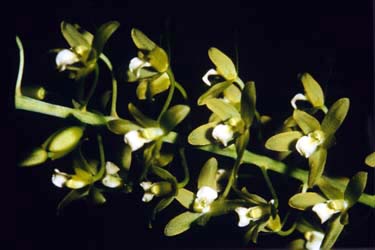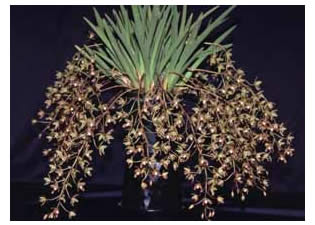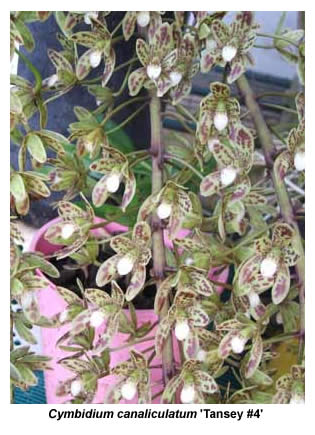 (Photographs by C Hutchings, J N Rentoul & OSCOV)