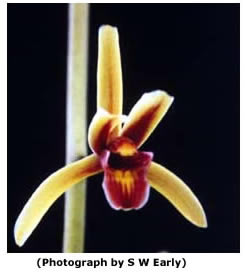 This is the type species for cymbidiums and although it is widely spread is not as variable as many other species. We find that the racemes which are pendulous continue to grow as the flowers open. It has very thick rigid leaves typical of this section. The flower scape can be between 30 and 90 cm long with between 14 and 45 flowers. The flowers are lightly scented 3-5.5 cm pale yellow to cream petals with a broad central maroon-brown stripe.
Culture
We grow and flower this cymbidium in Melbourne in a heated glasshouse with a minimum of 12 C. and 50% shade. I have found it in these conditions a very easy orchid to both grow and flower. It flowers for us between January and March.
Habitat
In the forks and hollows of large branches and tree trunks, usually in open forest in partial shade provided by the leaf canopy.
Distribution
Siri Lanka, Andaman Islands, India, Sikkim, Nepal, Bangladesh, S China, Hong Kong, Burma, Thailand, Cambodia, Laos, Vietnam, W Malaysia and Java. 0 - 1500m.
Synonyms and other names
Epidendrum aloifolium, Epidendrum pendulum, Epidendrum aloides, C. pendulum, Aerides borasii, C. erectum, C. simulans, C. atropurpureum sensu, C. intermedium.
Primary Hybrids
aloifolium x canaliculatum = Kintoki
aloifolium x finlaysoniamum = Hanalei
aloifolium x iansonii(lowianum) = Faunus
aloifolium x parishii (sanderae) = Hugh Gordon
aloifolium x sinense = Hsingda Fountain
aliofolium x suavissimum = Sweet Alo
aloifolium x tigrinum = Bindi's Soo
simulans(alifolium) x canaliculatum = Alcor
bicolor x aloifolium = Burma Star
canaliculatum x aliofolium = Penguin
canaliculatum x aliofolium = Alcor
ensifolium x aloifolium = Ma-Rid
goeringii x aloifolium = Suzuka Pass
tigrinum x aloifolium = Bindi's Soo
tracyanum x aliofolium = Mona